Programming of CNC machines is perspective and desire area of expertise, on which is very much demanded by current industry. With combination of CNC machines and CAD/CAM systems you can achieve high quality and precision of the produced parts. Department provides education and training in programming modern CNC machines made by companies Mazak and Emco (5-axis machining center, lathe, and milling machine).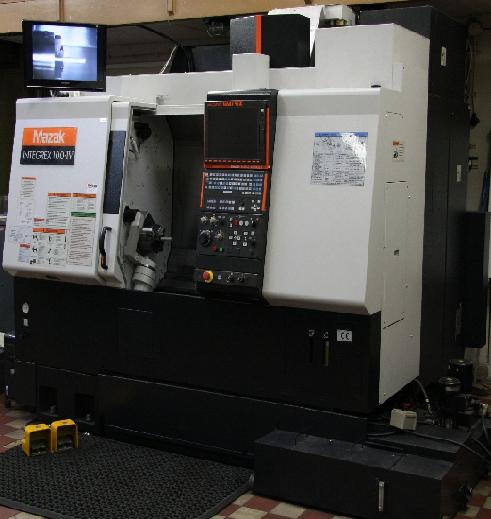 Lathing-milling machine center Mazak Integrex 100-IV
Today, CAD/CAM systems are main support instrument in area of CNC machine programming. Their big advantage is considerable time savings in generating tool paths compared to conventional programming, especially for complex-shaped components.

Production model made in CAD
Today's CAD/CAM systems are equipped with virtual collision detection. It can be used for 5-axis applications.

Aplikace CAD/CAM systémů při tvorbě NC programu
According to current demands of industry on specific student's knowledge, you can use various systems and programming equipment concerning CAD/CAM systems on our department. These systems can be used for training and demonstrations organized by Department of Manufacturing Systems.
Listeners of our study programs and trainings will get familiarized not only with theoretical programming, but with specific production on our machines as well. They will individually set the machine for designed parts, including adjustment, DNC data transfer and own start-cycle.
Manufacturing on CNC machine
Science – research – development
Education and training programming the CNC machines and CAD/CAM systems
5-axis synchronous programming
Creating and editing postprocessors for CNC machines