Simulation helps find answers to these questions
Will I keep the delivery date of the contract?
What is the running time of production?
What is the size of work in progress?
Where are the bottlenecks?
Where are the potential reserves?
Will our logistics system make to supply a new project?
Are there more investments necessary?
How much will failure affect production capacity?
When to use computer simulation?
When experimenting with the real system is impossible or too expensive. When you can't solve the problem by analyzing it. When you want to find out new properties. When you want to check current solution achieved by different methods.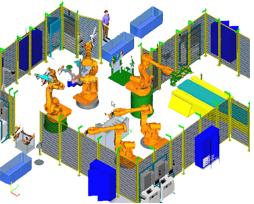 Process Designer
Experience
We are working with simulation for many years on our department. We have experience with a number of simulation tools such as "Witness", "ShowFlow", "Simcron", "Plant simulation", "Process designer" and "Process Simulate Human". We have experience especially with automobile and electro-technical industry.