Laboratory supervisor: Ing. Radomír Mendřický, Ph.D.
Keywords: 3D measurement, digitization, reverse engineering, optical contactless 3D scanning, 3D scanner, dimensional inspection.
---
Principal goals and activities
The principal activity of the laboratory are expert activities related to 3D digitisation of object (such as injection molds, pressing tools or products), with the processing and analysis of thus acquired data. The models generated in optical digitisation have a wide range of application in CAD, CAM and FEM, simulation of injection of plastics or metal sheet drawing. This adds efficiency to comprehensive checks in size and shape accuracy of produced components and functionality of sets. The benefit is independence of the results on the rigidity, mass and temperature of the part.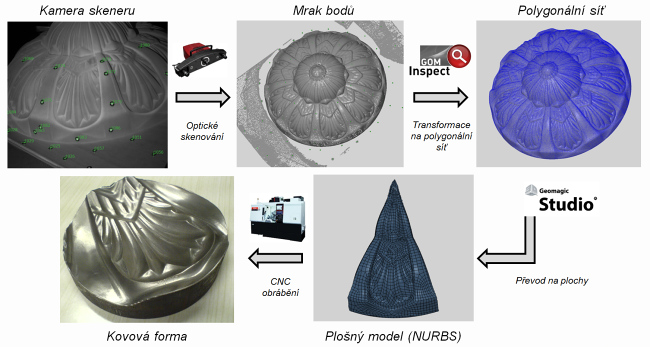 General focus of laboratory
3D digitisation of parts in the laboratory uses modern optical systems, most typically contactless 3D scanners that offer rapid and accurate computer rendering of existing parts ranging from millimetres to meters in size. We also use high-performance SW applications for efficient transformation of the scanned parts into planar or spatial CAD models. Application of these innovative procedures critically shortens the time to develop or innovate the product. It also offers high efficiency in checks of manufacturing quality, reverse reconstruction of a 3D model (in planes) in reference to an existing part (reverse engineering), or in various types of analyses.
Specific instruments and outcomes
• ATOS scanner– contactless 3D optical scanner, measurable sizes 55 – 700 mm, accuracy up to 0.01 mm, high data density.
• REVscan scanner– portable optical 3D scanner, accuracy up to 0.05 mm.
• Trimble CX scanner– terrestrial laser scanner with a Trimble Tablet computer, digitisation of large objects, production halls, machines, buildings, historic sights and works of art; range up to 80 m.
• SMS Somet Berox– coordinate measurement machine, accuracy 0.005 mm.
• MicroScribe –3DX – a device operating an articulated arm.
• GOM Inspect Professional– software for processing and evaluation of the data measured in the optic 3D scanners, size and shape analyses, inspections.
• Geomagic Design X, Geomagic Studio– special software for transformation of 3D scanned data into planar or volumetric models suitable for CAD/CAM systems and virtual reality.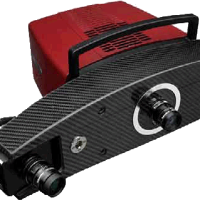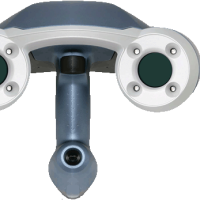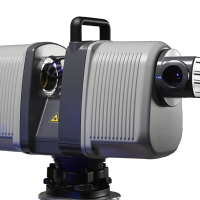 Offer of technology and expertise
We offer our experience and conduct all of the activities in optical digitisation and reverse engineering:
• Part of contracted research and collaboration with the industry (size and shape analyses of products, reverse engineering, training, etc.).
• In investigation of scientific and research projects.
• In the training process of offering selected courses at TUL.
• When investigating topics and writing of bachelor and master theses and dissertations.